The winner of the great Princess Smartypants Fan Mail Competition is William Kirwin from Cleveland Elementary School, Cleveland NC USA
[gview file="https://babette-cole.com/wp-content/uploads/2016/01/fan-mail-winner.pdf" save="1″]
This is the best letter ever and really makes me think writing and publishing for children is a smashing job.
Publishing has changed so much in the past few years that there are times when I feel I really don't want to do any more books. I know I am not the only author/illustrator to feel like this!
This lovely little letter has inspired kick on and go with what I do best.
Thank You, William!
He gets a free signed Dr Dog.
Princess Smartypants, responding on Facebook
My Dear and Loyal Subjects of Totaloonia,

THE WINNER OF MY BEST FAN MAIL COMPETITION IS WILLIAM KIRWIN OF CLEVELAND ELEMENTARY SCHOOL, CLEVELAND NC 27013 USA. Well done William, not only do you recieve a free signed Dr Dog by the Royal Biographer Dame Babette Cole but I am making you Royal Knight of the Pen of Totaloonia.

ARISE SIR WILLIAM!

This is the best letter ever. Please keep writing in because I have decided to run this competition once a month for the best Fan Letter. Free signed Book to the winner each month.
Totally ,Regally , Madly,
HRH
P.S.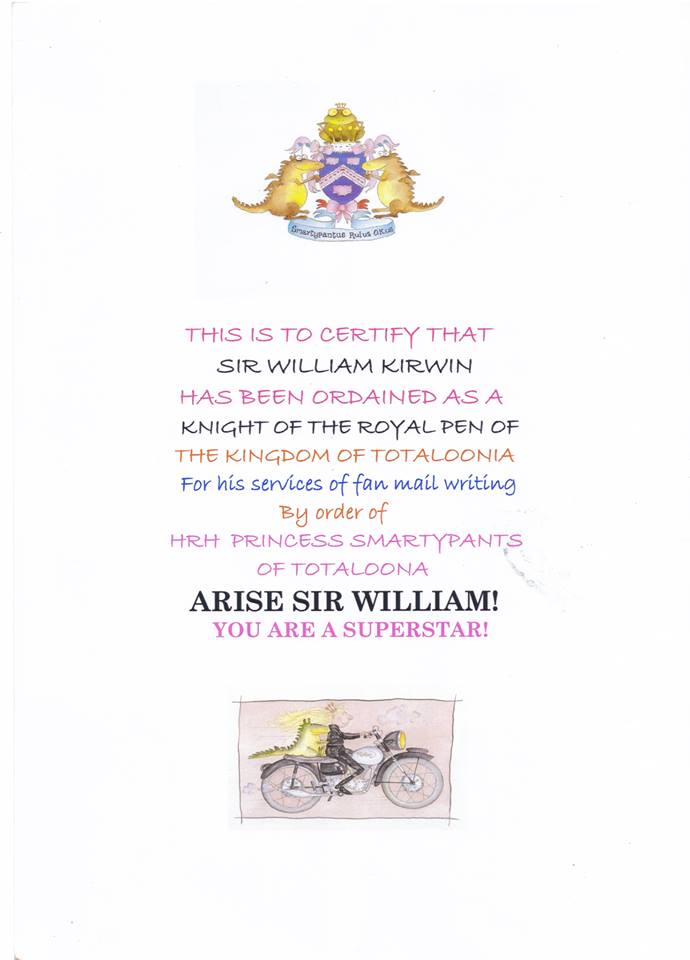 Keep sending fan mail to Princess Smartypants on Facebook, Babette Cole Books, Babette Cole on Facebook, Tweet @Babette Cole or on the website babette-cole.com or write to me by hand to:
Babette Cole International Children's Books,
The Studio,
Preston House,
Preston,
East Village,
Crediton
Devon,
EX174DA
U.K.
THIS COMPETITION HAS BEEN SUCH A SUCCESS I HAVE DECIDED TO RUN ONE EACH MONTH WITH A FREE SIGNED BOOK AS PRIZE FOR THE BEST LETTER.
THANKS AGAIN WILLIAM .. YOU ARE PURE INSPIRATION!!!
(Now Let Me See …maybe I will do a story for William about a little boy who has a favourite magic book that cheers him up when he is down by taking him on hilarious adventures? But isn't this what reading and the love of books does for us anyway ?)