Children's author Babette Cole dies aged 67
We are sad to announce the passing of award winning writer Babette Cole, who was born in Jersey and created more than 70 children's books.
Brilliant, outrageous, entertaining and fearless, Babette Cole was one of the finest illustrators of her generation but her skill with a paintbrush was more than matched by her knack for coming up with witty and original stories and finding surprising, innovative and, above all, funny ways of telling them.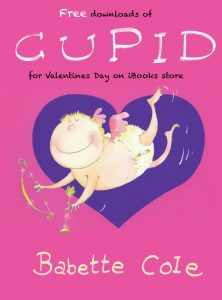 Happy Valentine's Day
To spread a little love this Valentine's, we are giving away FREE copies of Babette Cole's Cupid on iBooks.