1st Birthday!
The Brave Sprats, Babble Sprat, Manus Sprat and Neil Sprat braved terrifying storms to get to the famous Lamb inn at Sandford Devon, for their 1st Birthday Party.
They also had something else to bubble about "The Trouble With Dad" by Babette Cole and produced as a reading aid by her own e picture book company Inky Sprat was selected by Apple in the best 10 books made for iPad 2013 out of thousands of entries!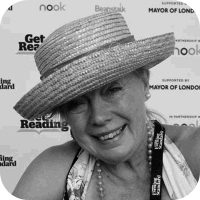 Babette Cole is one of the most successful authors of children's books at work today.
With highly original, often irreverent, stories and an irresistible illustrative style, her books have sold millions of copies all over the world. Her best known books are 'Doctor Dog', 'Princess Smartypants' and 'Mummy Laid an Egg'.
Manus Home has worked in feature film production for the past ten years ('Elizabeth: The Golden Age', 'Asylum'), and television dramas (BBC 'Down to Earth').
He has also worked on investigative documentaries ('To The Ends of the Earth'), and on various natural history programmes for BBC Bristol. He combines his time as a film maker with stills photography, specialising in 'human landscape' and travel, and his work has been published in various magazines (Wallpaper) and advertisements.
Neil Baber has been making well-crafted publications of all types for nearly twenty years.
As Commissioning Editor for David & Charles/F&W Media International he created innovative and best-selling books in many and various areas of non-fiction publishing. At Phaidon Press he put together award-winning photography and art books working with leading authors, writers and designers. As Publications Manager of the London Symphony Orchestra he learnt to buy print, manage design and master page layout, creating books, programmes, posters, flyers and brochures covering every aspect of the Orchestra's activity.
Well done the Sprats . What a team !